I wrote a whole post introducing it. Now, as promised, I have the review, of the next, but maybe not last,
Sisterhood of the Traveling Pants
novel,
Sisterhood Everlasting
.
This is the first review where I'm going to institute a new format. It has always bothered me that reviews are so limited. You can talk about the book, but only in general terms. Well, what fun is that? I want to talk about the whole book! I want to analyze it all! I want to discuss how the couple got together, and how the story ended! But I still want to be able to write normal reviews, where people can read about the book and then go buy it themselves.
I don't know how this is going to work, but I'm going to try it. A compromise of sorts. I'm going to insert a line break. Before the break there will be a normal review: summary, my general thoughts on the book. Then, if you choose to click on it, you'll find the full review after the break, where I discuss everything, spoilers be damned. Sound good to you? We'll see how it goes!
Summary:
A surprise sequel to the popular
Sisterhood of the Traveling Pants
Series by Ann Brashares, this book picks up ten years after the last one ended. Bridget is still with Eric, but is as flighty as ever, eager to keep moving, never settling. Lena is living a quiet life, teaching at RISD, still continents away from her true love Kostos. Carmen is now a popular actress living in New York City, engaged to the insufferable Jones. Tibby moved to Australia with Brian two years ago, and her whereabouts have since been unknown to the rest of the Sisterhood. The story begins as the four girls are set to meet up in Greece, when tragedy strikes.
Review:
I thought I was going to hate it. I didn't. I thought it was going to be so bad that it would make me hate the entire series. It didn't. But it wasn't great.
I loved the original series. Correction: I loved the first three books, especially the third one,
Girls in Pants
. I didn't really like the last book,
Forever in Blue
. I thought Carmen's acting thing was stupid. I didn't care about Leo. I found Tibby quite annoying with the whole Brian/pregnancy thing. But on the whole, I loved the series. I loved these girls.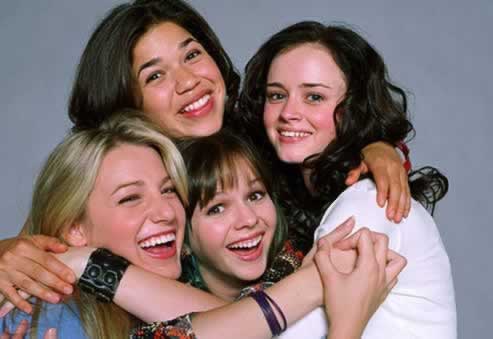 I love them so much that I know what kind of potential they have. I knew that this new book could be great. I think that may be my biggest problem with the novel--the wasted potential. Ann Brashares could have gone anywhere with this. It's ten years in the future--anything could have happened. The direction that she chose was so predictable. Frustrating. All the characters had gotten ten years older, but they hadn't gotten years wiser. They were all stuck in place--Bridget was still running from life, Lena was still running from Kostos, and Carmen was still trying to find a good storyline. That's not even dealing with the whole Tibby disaster.
By now everyone knows, but I should warn this is a spoiler. Stop now if you're the type of person who likes to be 100% spoiler free. If you're still with me, you probably already know that Tibby dies. She drowns in Greece. They don't know if it's a suicide or not. They don't know anything. All they know is that they've lost Tibby. It is their grief over this event that drives the rest of the story.
The death was terrible. It was just so lazy. A flimsy plot device, a cliched move to create drama. It expected us to be sad, but it didn't earn that sadness. I wasn't sad because of 30 year old Tibby died, and I didn't feel bad for her 30 year old friends. Instead, I mourned the old Tibby, and had sympathy for her 20 year old friends, the ones I had loved so much in the original books. The original series had made me invest in these characters. This book didn't. The plot assumed that you would feel sad, but it didn't work for that emotion. It was lazy, and unoriginal, and I really, really wish it hadn't happened.
I hate reading about grief. I find it so boring. I was so freaking bored in this book that I actually skipped thirty pages. Yep, that's right. And I'm not a skipper. Ever. But I just couldn't do it. I was bored to tears! And it was so easy to just flip forward. I didn't miss anything. I wasn't confused at all. That's really a weakness of the book is not one plot point moves forward in thirty freaking pages!
For a book I didn't hate, I've really been hating on it. What was good about it? It's hard to remember. I liked the writing. It was the familiar, sentimental Brashares style that I've always liked. And I'll always love the characters, of course. That's a given. And I liked the ending.
Overall, I don't think this was a very good book. As a standalone, I don't think I would have been able to finish it. The plot was lazy and unimaginative. The characters were stuck. But, as a longtime fan, I enjoyed it enough. I hated Carmen's storyline, and I was annoyed by Bridget's, but I liked Lena's. I thought the resolution to Tibby's death was pretty good. But again, none of that was earned or particularly well developed in this novel. I only enjoyed it because I would enjoy any scene between these girls.
This is a book for longterm fans. Anyone else, please, please, waste your time on something else.
And that's what I have to say to anyone who hasn't read it. If you've already finished it, please join me after the break.
What is wrong with these girls? Okay, so Tibby dies, and they don't know why, but they're all so stupid that it takes them months to contact Brian? What? Their reluctance to find Brian really frustrated me. It was obviously Brashares stalling. If they found Brian too soon, the story would be over. Instead, she dragged it out, sacrificing her characters intelligence for page count.
Beyond that plot hole, I liked how Tibby's death unfolded. I don't think she should have died in the first place, but if she had to, I think it was okay. I kind of liked how it unfolded backwards. First they thought it was an accident, then a suicide, then a disease. I liked that element of mystery. And I'm so glad she didn't kill herself. I wouldn't want that ending for my Tibby.
I hated how Tibby's death was used to propel the rest of the stories forward. Lena should have been able to find Kostos herself. Carmen shouldn't have been so stupid as to think she would marry someone as good awful as Jones. And Bridget shouldn't have been so senseless as to leave Eric, who loved her so much and was so understanding of all her problems.
In the end, though, I was happy. I loved the final scenes between Lena and Kostos. I thought their whole courtship was way too drawn out--kind of like Anna and Etienne's in Anna and the French Kiss--but I'm just so glad they're together. I had assumed they had gotten together at the end of Forever in Blue. I was fairly satisfied with that ending. But, fine, this was a nice bonus. I loved the line about how "this is someday." Awww.
And I'm happy for Bridget and Eric. Bee's transformation--from considering abortion to bonding with Bailey to becoming a mother--was surprisingly authentic. And I loved Eric's reaction. I'm excited for them.
In the end, Carmen was the one who got shafted, as always. She spends half the freaking novel on the train, for heaven's sakes! And still, no romance! I love Carmen and it's about damn time that she got a really storyline! AHHHHH!
So, I'm happy with 3/4 stories. Pretty good. Still, gosh darn awful book. But enjoyable enough to read. I wouldn't mind another one.