So, of course, I had to start with my first romance,
Michael Moscovitz and Mia Thermopolis
from
The Princess Diaries
.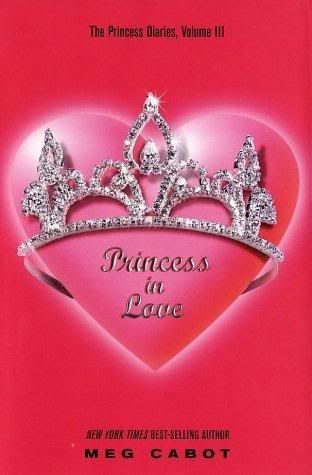 Summary Without Spoilers: Mia is the Princess of Genovia, but she's also a regular teenage girl. She has a best friend Lilly, who has a brother named Michael. Michael and Mia always have feelings for each other, and they explore these feelings over the 10 book series.
Summary With Spoilers (these summaries are so much more fun!): In the first book, we meet Michael and Mia. She's confused, but he loves her anyway. He always loves her. He writes songs about her. He sings to her. She is his Tall Glass of Water, if you know what I mean. In the second book, Mia realizes she's in love with Michael, but she never thinks he'd like her, so she dates geeky Kenny. But Michael loves her still. Then the third book (pictured above) they finally end up together! He writes her a poem and a computer program! The ending is just so good! And then, over the next seven books they grow closer: they go to prom, they discuss sex, they help each other through crises. Then, in my favourite book of all time, they get back together. Love it, just love it.
Why I Love Them:
-Because of the slow dancing at the dance in PD1. It's so cute.
-Because of the "Mia, you look...", "Mia you look really beautiful" comment in PD2
-Because of Michael's jealousy all through PD2 and PD3 (and PD10 for that matter). I love jealous Michael!
-Because of the awesome ending to PD4, when he says that, of course, he's "in love" with her. I love how paranoid Mia was (I know I would be that paranoid!) and I love how sweet and sure he is.
-Because Michael is so committed to her. He really loves her. He knows what he wants. He sees a future for them.
-Because PD10 is just about the most amazing thing ever. I have never enjoyed reading a book more. Other books may have been written better. Other books may have been better stories. But I have never so happy and excited to read a book in my life. I grew up reading about Michael and Mia, and seeing them get together was so amazing. The interview--"What did you miss most?" "You". Awww, Michael. And, of course, the carriage ride. And after the prom. LOVE LOVE LOVE them.
Why They Are Perfect For Each Other:
Because he is so smart. And she is smart too. Because he always loved her, and she always loved him. Because they can stick by each other by the good times and the bad. Because they love each other, and their love conquers all.
Sweet Little Taste of Their Love:
Note: This post runs as part of my month long Romance Celebration featuring all my favourite couples from books, tv shows, and movies. Check in tomorrow for more!